Z1 AXIS INDICATION
With Mikronel 320L, it is possible to measure cross support movements on a seperate display. This allows one to machine conic parts with ease and independent of Z axis.
Z1 AXIS MOVEMENT PROJECTIONS
Classic Z and Z1 axis co-ordinate summing function has been improved to be more universal in Mikronel 320L. When the cross support is turned at an angle to the X and Z axes, vector components of Z1 axis movements can be summed with both X and Z axes. Naturally, when the angle is zero, Z axis display can indicate sum of Z and Z1.

A seperate key is allocated for easy use to enable and disable this function.

With this new capability it is possible to machine on X and Z axes without the need to first align the cross support. For machining conic parts, additional time saving is achieved with the capability to work on 3 axes simultaneously.
10 TOOL OFFSET MEMORIES
Mikronel 320L and 220L include memories for 10 different tool offsets. Cutting tip co-ordinates of different length and shape tools can be entered, upon tool change appropriate tool offsets can be recalled from memory.

Five function keys (A-E) have been allocated for tool memory. Tool offset values in memory can be recalled on two groups of five using a single key. This allow time saving and operator convenience in series production.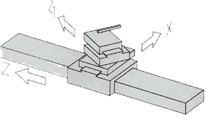 DIRECT DIAMETER DISPLAY
At a single key stroke X axis display can be set to read radius or diameter. This capability allows diameter and from axis dimensions.